Hello, good morning. Watermelons. The wisdom of watermelons, the awakening offered by watermelons. Eating the tao.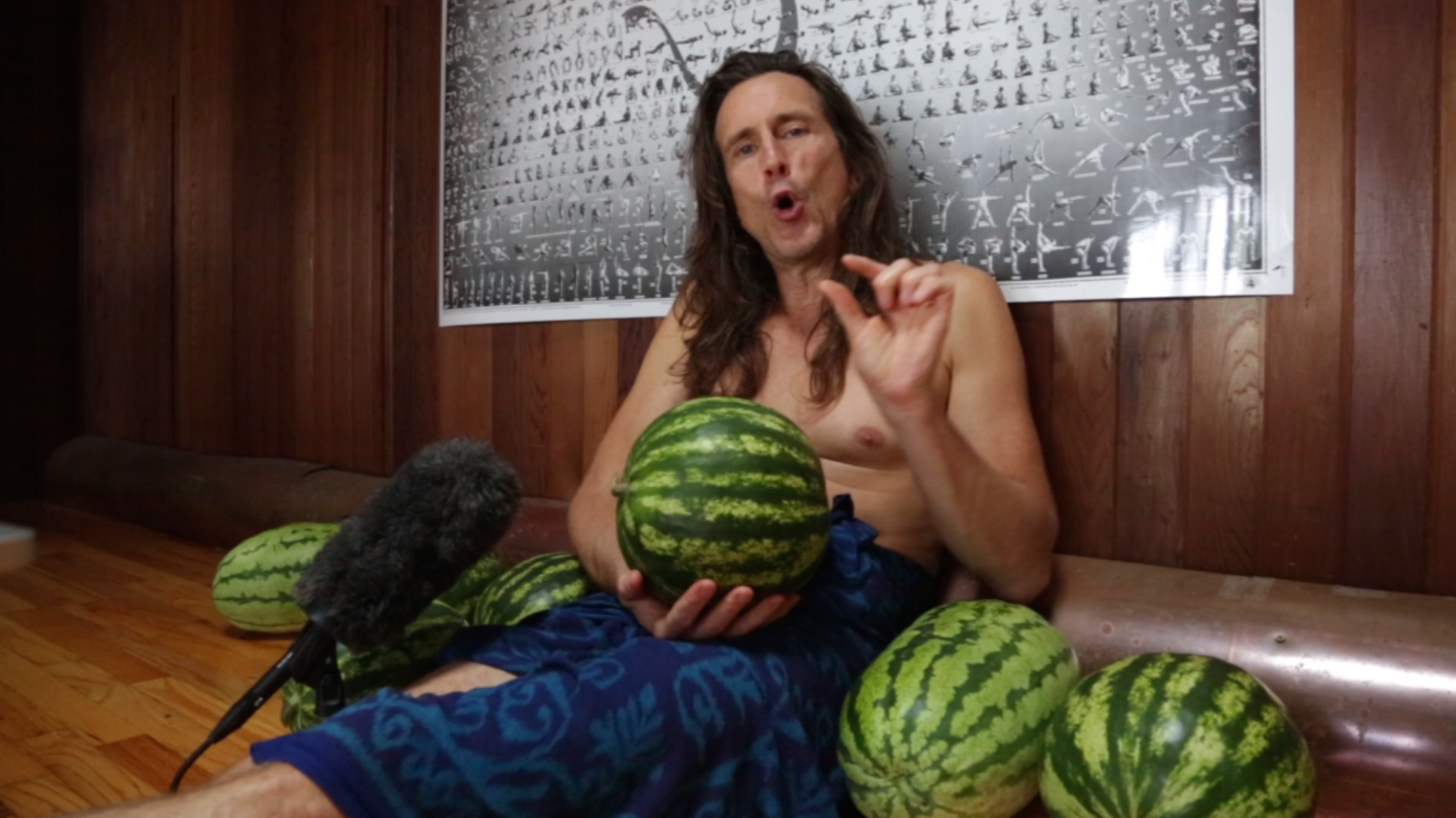 These watermelons feel like the future — nearly organic heirloom watermelons grown here in Northern Michigan. I want watermelons to be like me, easy on the earth. These watermelons didn't need a long ride in a semi truck to show up in my experience. I know of two farms in Northern Michigan growing watermelons. Granted, they don't get ripe here until September, and for kids back in school, September isn't really summer, but since this is Season Three of the Daughter of Godcast, Summer Vacation, the ripening of watermelons tells us our timing is perfect. Summer is in full swing for us. We are on vacation from vacations.
What else can watermelons tell us? They just feel good. They are round, an endless shape, round and round forever. They are appealing to touch, the texture is smooth and firm, we can imagine this baby basking in the sun, both letting in the light and protecting the mysterious interior. A bit grippy, not slippery even when wet. An ideal surface for grabbing, for holding, for carrying.
They have weight, which is like a promise. I am holding a hefty reservoir of fourth phase water, a dense concentration of solar photons pumped in by leafy collectors; this is a heavy battery to power people.
And the color, a redolent green, deep and dark, or alternately striped like a marquee. A broadcast, a signal, a message. A story. Once upon a time, a single seed, no bigger than a smiling child's fingernail, became many. Encoding dirt, rain and starlight into a strange new shape, a green roundness. Within, variations of the original seed and pink sweetness. This green calls out to creatures, to people especially. Roll me away, pick me up, carry me home. I am a treasure, a gift. I am refreshment, life. My seeds are tasty, too. Make my rind into soup or pickles. Keep just one of my seeds and the gift never ends.
Round and around, eternal. I am watermelon. A perfect exemplar of all that can be, of deliciousness, of enlivenment, of vibrant health. I am a treasure, a gift, a becoming. I am pleasure and I am forever.
The watermelon game is pretty amazing. The human game is different from the watermelon game, to be sure, but we can learn from the watermelon. We can take a hint from watermelon and be pleasure forever, too. Why not?
Now, catfishing. As a kid I fished for fish, but that was long ago. What made me sad about fishing for fish was that when you caught them, the fish died and then the game was over.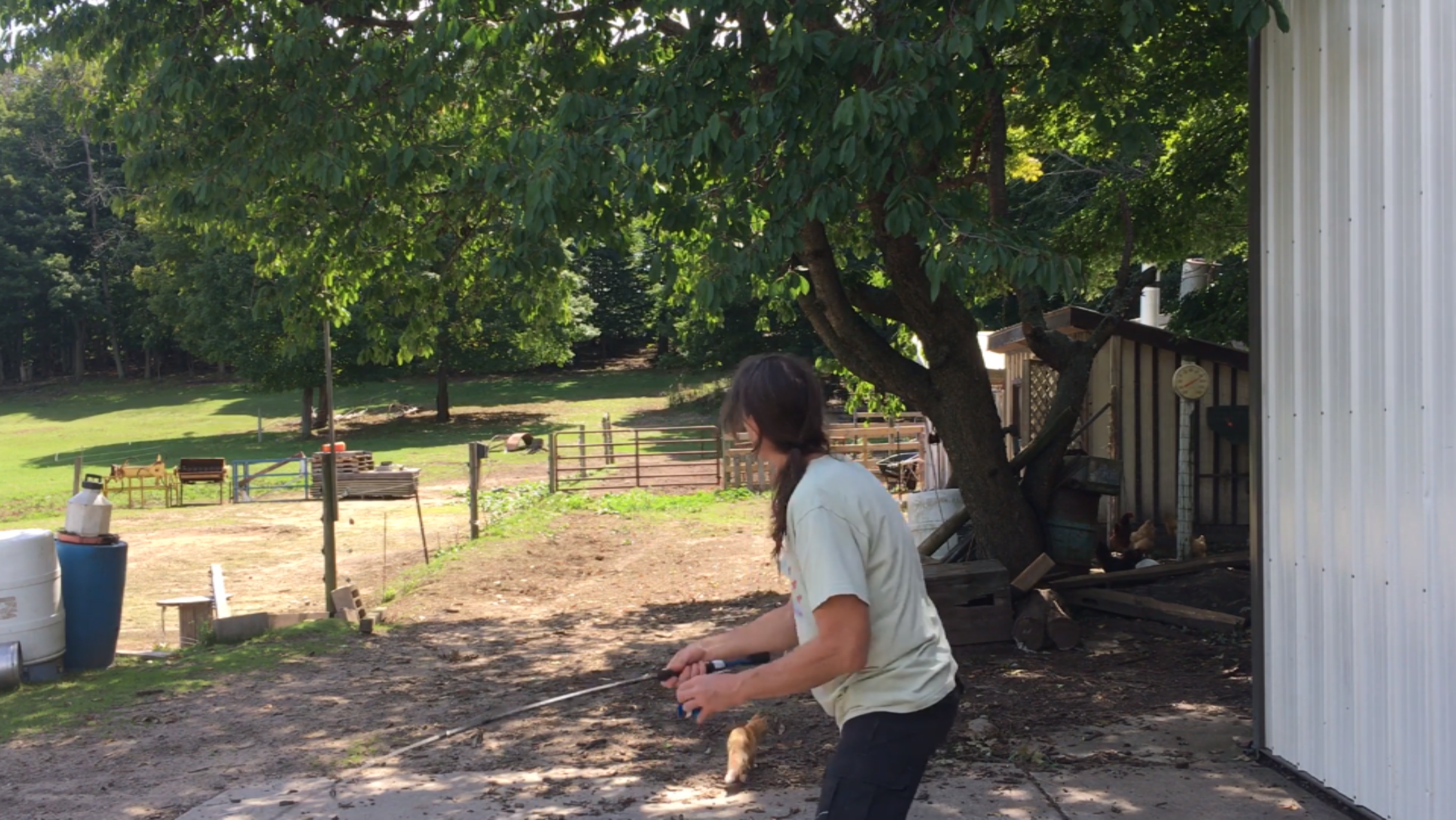 Jesus took a bunch of fishermen and made them fishers of men. The disciples of Jesus didn't kill the men they caught, so that's a fishing upgrade, in my opinion. Fishing for men, or women, for that matter, is a bit problematic; once you catch them they tend to hang around, and I enjoy my solitude. So instead of fishing for fish or men, nowadays I fish for cats. Cattens actually, kittens who are almost cats. My farmer neighbors have a nice pride of barn cattens this year. There's nothing more relaxing than an afternoon fishing for cattens.
A couple of things I've noticed. The first time fishing, the cattens were a little freaked and leery of the lure. But after a few days, they figured out it was a game and started collaborating with me on the rules. A dramatic tackle and immobilization of the lure is a clear score for the cattens. Basically, I'm playing for the laughs. They each have their own strategies, one catten follows the cast all the way out, another waits to ambush when the lure is reeled in. Sometimes they hunt as a team, three or four cattens together. Feels like a nature documentary, Mutual of Omaha's Wild Kingdom or Planet Earth, cue David Attenborough.
The best part is the interspecies communication aspect. I become the lure, imbuing a ripped-up old work glove with intelligence and agenda. I have transfered my awareness to the lure and act like something cattens would want to hunt. But I am a human; my brain is bigger than a mouse or a bird's, so they have to get smarter, too. I'm investing in these cattens: I'm creating supercats.
Watermelons and cattens. I wonder whatever happened to the movie we were making? Called... DOG? Cats. Kittens. Cattens. Watermelon. Summer Vacation. Podcast. You. Me. The cosmos. Smile!
The things about fishing for cattens is you've got to be extra careful, because when cattens tackle the lure, they could get tangled in the thin line. I immediately let the line go slack and stop reeling in. If they are snagged, I gently capture the catten and carefully untangle him or her. Only lovers of cats can aspire to be great catfishers. Competence and compassion and cat loving.
You might be wondering, why haven't I gone pro? Isn't there big money to be made on the catfishing circuit? Sure, I could be raking in the bucks and getting all sorts of free gear, not to mention catfishing groupies. I'm down with cats, for sure. In 2018, I'm all about DOG or Daughter of God. I've got bigger fish to fry. We're making a movie!