Episode 094
Grown Up Ghost
Hail humans in time and space, the DOG is with thee. Blessed are they who call her friend, and blessed is our feedback coming soon, for all scenes.
Daughter of Godcast Season Two Crowd Creation and this is Episode 094, Grown Up Ghost dropping on June 13, 2018. We're now a little over halfway through the Chinese year of the DOG. Just 6 months left to wrap our DOG, or Daughter of God and that's exhilarating, intense and all sorts of wild. We've been making steady progress, plenty of cinema offered and feedback received.  Poised for a triumphant climax, the big finish yet STILL quite an adventure ahead. An even more thrilling ride about to begin, and we're standing check by jowl at the helm, the tiller, the steering wheel.  We're all gripping the spatula, the joystick, the paintbrush. Everything depends on us. We can do this.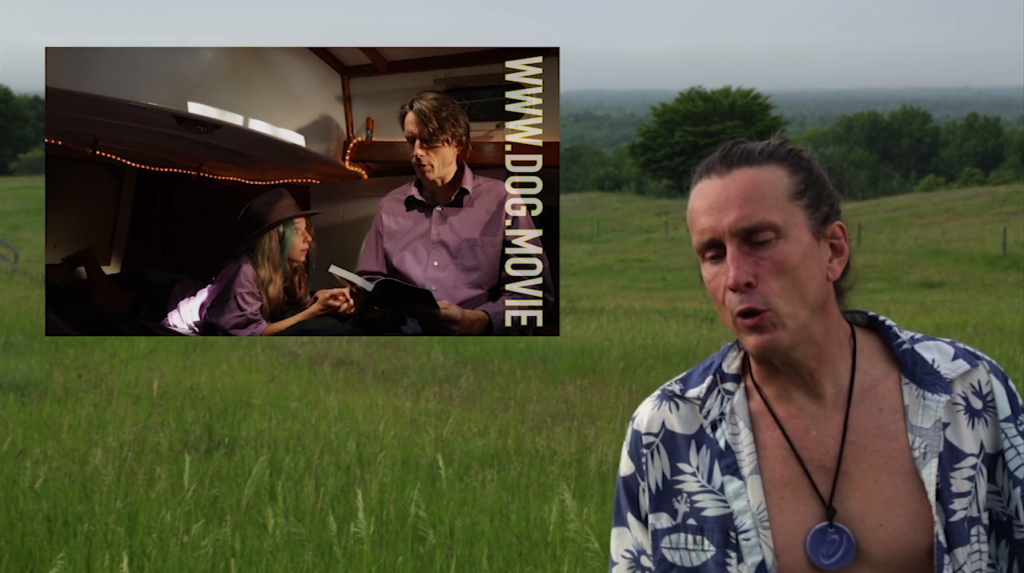 Episode 093 was another respite from the constant barrage of scenes. We went Low Level and looked at some charcoal drawings of the shots in Welcome Back, a drastic simplification intended to hone our compositions. Intriguing shapes and engaging designs. Plus taking suggestions for even more post apocalyptic props.
Susan Gallant, no relation to the awesome and extremely short lived episodic musical Galavant on ABC, offered this via Vimeo...
"It would be cool to see your DOG logo in the sky in some of these shots. Maybe she is getting on the boat at dusk. I really love that you filmed your drawings and explained and or gave people the option of throwing ideas in."
I replied,
[snip] "DOG logo - in the first shot of the big boat, you can see the moon in the upper right. Perhaps there's a way to tinker with that." [snip]

Susan's saucer in the sky idea is fun, I wonder if her suggestion can be plugged into the contraption that Gerry's messing with? Perhaps the dish antennae catches the dawn light and flashes, or maybe the device is pumping out tiny halos that drift up and away, kind of a variant of the electric discharges in the original 1931 Frankenstein.
Maybe Gerry's device is a beacon, projecting a holographic halo into the azure dawn sky like the Bat Signal. Another approach would be to just enlarge the moon and then alter the crescent to suggest the halo. Maybe a cosmic cataclysm has changed the appearance of the moon.
How would these different options alter or expand the story? For example, why would Gerry project a holographic halo in the sky? Maybe he's signalling the crew of the big boat to return from their scavenging expeditions, that's why Christina is coming back.
I could have a blast imagining how your suggestions might auspiciously integrate into the existing scenario. I'm a little bit surprised by what an expansion whore I am, I never suspected I could feel so confident about grafting disparate concepts onto this movie.
Were these concepts already there? Latent, dormant ideas just waiting for a few raindrops to sprout. Maybe this is my film future, building framework movies that attract supporting structure and rich detail from the cosmos.
Seamus via dog.movie struck a cautionary note.