Have we got a fun episode coming up or what? EVERY episode of the Daughter of Godcast Season Two Crowd Creation is scintillating to be sure, but Episode 086 Redemption is the bomb. After 16 weeks of feedback on props and scenes we're going behind the scenes to count our blessings, more to the point YOUR Blessings.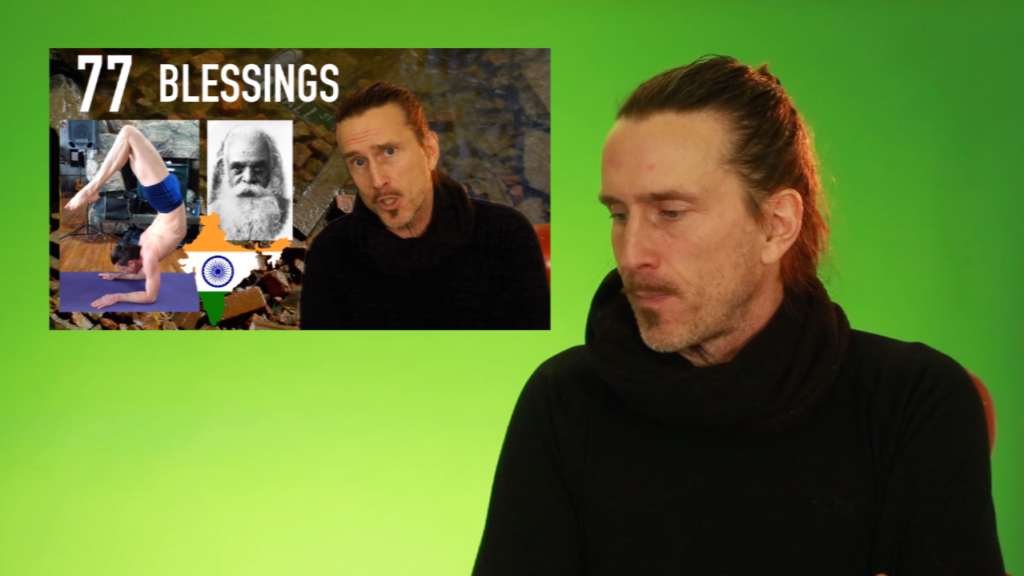 Blessings are the basis for Daughter of God's reputation economy. Yes, this movie even has it's own anarchistic barter scheme! The deal is this - anyone who helps the movie is blessed. Blessings can be redeemed for super classy movie swag, unique services and even travel and lodging. Whoa!
Coming up a whirlwind tour of blessings and the fabulous prizes you might already have coming to you, right after we check in with feedback for 085, Angel or What.
Feedback
The guy from Creaky is back! He's not red and is missing his hat, but now strangely jittery, as if slightly out of phase with his environment. He seems to have important news for the woman, who he calls Christi (Christina). We can call her that too. What jumps out about this moment between them?
Jil from Vimeo
[snip] "I like the otherworldly-ness of Uncle Joe. The shakiness is very effective as is the ghost face. Of course, I just want more."
I asked Jil a clarifying question
"What does the shakiness tell you about Uncle Joe?"
[snip] "The shakiness tells me that Joe is vibrating on an exalted frequency. He inhabits more than one dimension."
"vibrating on an exalted frequency", I like that a lot!
Seamus via dog.movie
| | |
| --- | --- |
| JoeC | 188 |
| SeamusC | 165 |
| Anonymouse | 154 |
| JamesS | 143 |
| PamK | 99 |
| JilJ | 88 |
| TimOB | 77 |
| ScottT | 66 |
| AllisonN | 57 |
| SusanF | 33 |
What might your blessing count be, Next Best Beloveds? What are the myriad ways of Getting Blessed? Everything you ever wanted to know about blessings can be found at dog.movie/bless.
Now, let's have a peak at the behind the scenes scene, 086 Redemption.
The Daughter of God is coming, and you've been helping her. You are blessed! Count your blessings oh Best Beloveds at dog.movie/bless/best. Sometimes, tho having a little reminder of how blessed we truly are is helpful. Here's what's currently available in the Daughter of God's Blessing Redemption Emporium...
The feedback question for 086 Redemption is... Which redemption do you crave most OR what's your dream redemption, what you'd love to see offered?
This movie just keeps sprouting tentacles and getting weirder, right? You ain't seen nothing yet, folks!
Episode 086, Redemption. Redeem your blessings and catch a chunk of history. What we are Crowd Creating together could set a precedent for movie making.  Yes, there's always the genius visionary, the energetic dula but he or she is, I am really just a lens for focusing the collective gestalt, an agent and advocate for the audience. Do I mind being a dula, a lens, an advocate? So far I'm having a ball! I just deployed a hilarious movie merch scheme, our own little reputation economy, props to Bruce Sterling and Cory Doctorow. I'm recording the 86th podcast episode and looking forward to nice soak in the tub later. How could life get any better? Groupies.