Another episode of Daughter of Godcast, the odd podcast, the unusual podcast, the podcast beyond precedent, surprise packed and never twice the same. This is episode 064, Sexy... as in Dan Kelly dot. That's my voice acting web presence, established in 2016.
Last week we spun the dials of the time machine a little too vigorously and hurtled all the way back to the 1980s! A few minor adjustments and expletives later, we reestablished contact with 2016, just prior to the inception of Daughter of God's gentle release and this podcast.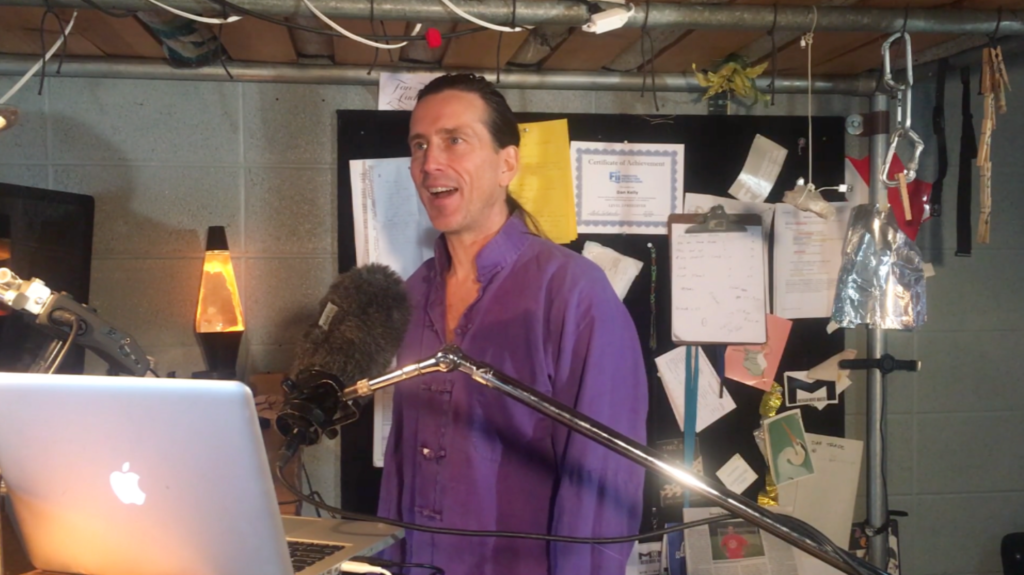 Oh, those were the days, folks. Lounging with frosty mint julips, great smouldering spliffs of cannibis, being fed grapes by scantily clad warrior princesses, soaking in steamy epsom salt baths re-reading Philip Dick short stories. Life before podcasting.
How did this whole podcast get started? Like most other stories told here, I love a running start. Striding down the runway, carbon fiber vaulting pole firmly gripped, we plant and take off, soaring up feet first and over the bar, weightless for a split second while turning and giving the pole a light push back, then the long drop to a gorgeous and triumphant flat back landing in the pit. Metaphorically of course.
What we're vaulting over today is the accidental / auspicious origins of episode 001 of the Daughter of Godcast.
Modern movie post production involves a lot of screen staring. Some post production jobs are purely visual, like hours and hours of setting  bezier curve keyframes, which in plain english means that during rotoscoping the brain's language centers are mostly idle. Wait, that could be a little plainer still. Try this - I like listening to audio books while cranking out VFX. YouTube lectures. Podcasts. I discovered StarshipSofa, a fan driven science fiction short story podcast hosted by Tony C Smith. Soon to be followed by Clarkesworld, Escape Pod, Drabblecast. When I wasn't tuning into my favorite music on SOMAFM, I was listening to genre audio fiction.
The stories are read just as frequently by passionate fans as they are by professional voice actors. As an actor and fan, I fit both categories. After hundred or so hours, I made the connection. Doh, *I* could read for these podcasts.
Fellow voice actor Bennie Matesich and I decided to audition for genre podcasts. Sweat equity at first and then eventually paying gigs. On March 16 I pushed my demo out to YouTube. a short story by Alfred Bester, the Lost Child. I hit up all the podcasts and started getting gigs, roughly one a month.
My first paying gig was for Clarkesworld Magazine and the gifted Kate Baker. My prime objective for readings was always more strategic than financial. I was looking for an audience. A following. Establishing my very own cult of personality that could pave the way for the release of Daughter of God. Which, I had decided, would start that August. Somehow. I didn't quite know how. In the meantime, genre narration was a way to get my name out there.
I thought writing might be another way. I brushed the dust off a few genre short stories I'd written over the years and submitted them to some of these podcasts. I could have sent them to old school magazines like Asimovs or  Fantasy and Science Fiction, but the downloads for genre podcast sites blew away the magazine sites. I also applied to the Clarion writer's workshop. Rejections, rejections.  I even asked my Hugo winning brother Jim for a story doctor session that Thanksgiving, but his magic didn't rub off.
Getting published would have to wait, but the genre narration work kept coming. Back in 2014 while battling to keep my trademark, I discovered the new TLDs, and grabbed not only every variation of artist.house I could think of but a bunch of kooky ones too, like dankelly.sexy and dankelly.guru. I launched dankelly.sexy as my voice actor site and knocked out 5 stories in 2016. For the rest of this episode, I'd like to share some excerpts.
You can hear these stories in their entirety at dankelly.sexy and follow the links to Farfetchedfables, StarshipSofa or Clarkesworld Magazine for more.
You've been stimulating your language centers with the Daughter of Godcast episode 064, Sexy. In the words of that old fart Kurt Vonnegutt, history is just a list of surprises. Through 2016, I'd been narrating other people's stories on genre websites, and trying to get my own fiction published. August was fast approaching and my deadline for releasing the Daughter of God. What would the release look like, what can I do? Somewhere in the summer of 2016, I had my face palm moment. My own stories + other people's podcasts. Surprise! My own podcast!