A podcast about movie making and the science fiction featurette, Daughter of God, with Director Shri Fugi Spilt, (Dan Kelly). Daughter of Godcast, 051 Thanks. An appreciation for TEAM DOG in song.
Howdy! Episode 051 of the Daughter of Godcast, Thanks! Just one episode from our 1 year anniversary. This will be a short and sweet episode, a quick epilogue of the swim followed by a song of appreciation for everyone who joined TEAM DOG in our epic crowd funding experiment.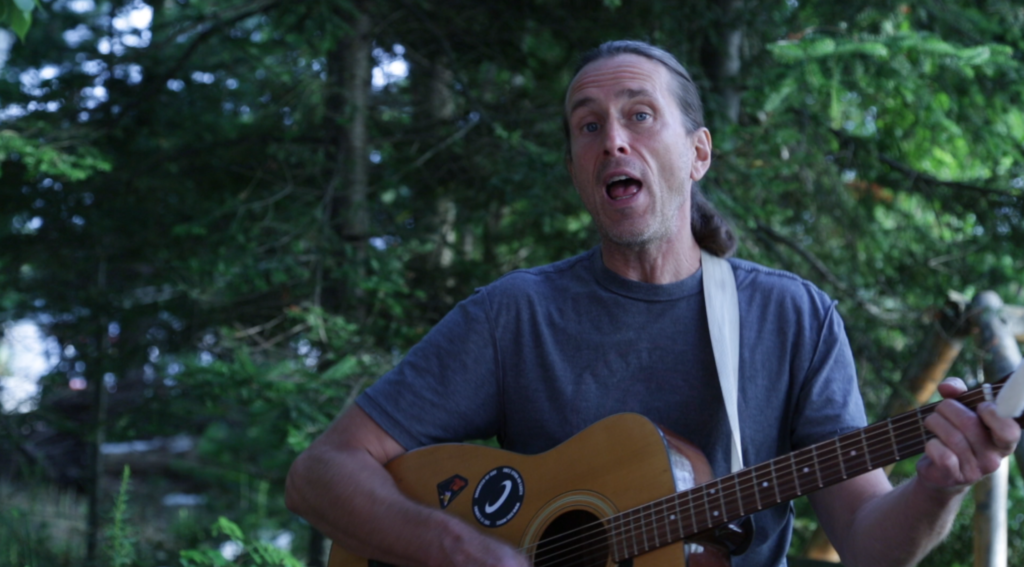 Last week TEAM DOG, me, swam 2 miles as a fundraiser for the Watershed Center, Grand Traverse Bay. I came in 12th out of 43 swimmers of all ages, 3rd in my age class of 50-59 with a time of 54:17. The winning time was 39:12. I gotta little lost at the end, surfing the swells and drifting away from the paddle boarder who was trying to guide me.
TEAM DOG raised $2171, $153 more than our $2018 goal, making us the second highest fundraiser for the swim. This experiment in the gentle release was encouraging on many levels.
1) This was my first open water swim race and I'm excited for more. 2) I like the Watershed Center and was happy to help with funding. 3) Comparing the podcast stats for June and July, there definitely seemed to be more consistent pattern of listening after TEAM DOG started fundraising. I am pondering proposing a more ambitious crowd funding campaign to an international non-profit that DOG really resonates with, like maybe Mozilla, the Electronic Frontier Foundation or maybe SomaFM.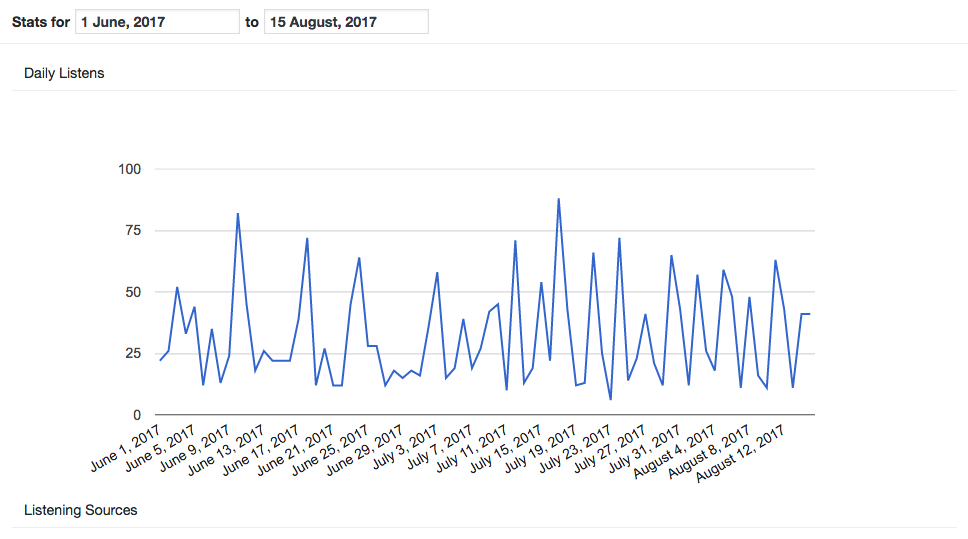 Well, that's down the road, we've still got a few stories to tell about the making of the longest little movie ever, the making of the movie that made me. In Episode 051, Thanks, we're just going to sing a song, kind of a long song for a short episode.
i wanted to swim the other day
so asked my friends for some money
i said i'm swimming for you
swimming for you
what do you know, money
they gave so generously
for swimming in the blue
cause swimming, i'm swimming for you
why do you need money, you fool
was this some fancy country club pool
oh no, this was for you
I was swimming
for you
just me and a bunch of crazy earth lovers
jumped in northern michigan wild waters
and swam for you
you know Jesus
he swam for you too
Wait a minute DOG, is this some kind of cult
free love, gnostic, with a dash of John Galt
what you been smoking, did you just get your card
have you swallowed too much lake water
well maybe, but I'm talking about the wilds
the thriving, of every Gaian child
could you be more clear
I'm kinda confused
try not to meander
and be so enthused
wander all around and gas about nothing
just the facts ma'am
no at the mouth frothing
try and keep to the point
as if you hadn't just smoked a big joint
fine!
here's the skinny
clear as can be
this about my friends and their money
how they protected wild waters
and help screen that movie
about god's daughter
for you
oh yes for you
these things they did for you
you see wild waters are
the most important thing
if you're interested
in living
it's true
oh yes so true
for you
for me and you
everything's connected
not in the whoo whoo way
through wild waters
very intimate lay
climate and the oceans are pretty much the same
you'll be water walking
until your dying day
where ever you are
there's water under foot
waters in the sky
water in your hood
the life support system
of the pale blue dot
whirling through the cosmos
water's a lot
of fun
for me and you
oh, wait did I mention food?
if you like eating
tacos and berries
gotta have water
so necessary
boys and girls
growing big and strong
with plenty of wild water
won't take long
celery, avocados, apples and wheat
quinoa, coconuts, even pom fretes
peanuts and nori and rice and beans
every yummy thing ever eaten
by you
and your family too
need wild water
if you like having food
I agree eating is pretty darn neat
and you went swimming to raise money
for wild water
plus god's daughter
that's the big fuss
your singing about us
about us
this song is for us
your singing
about us
that's right!
so now I wanna name them
more than 54 friends
got me swimming
and fundraisin'
for us
'cause we're wild water too
whoo hoo
we all wild water too
i threw down the first $18 bucks
just $2000 more
with a little luck
then the giving started from
a bunch of secret peeps
nonymouse, 3D and B
high school chums, they ain't fooling me
Jim and Dirk and their wives and kids
got things started is what they did
for we
humans bees
you and me
so sweet
JJ kicked in with a whopping big kiss
That's stands for Jil, world famous artist
Then came Cyn, witchy goddess
followed by Pam my lawful sis
you know who's next, that badass Susan Fisk
for us, they gave for us
a freaking shower of love
I got plenty more names, so here we go
singing Timmy Burke and Barbie Stowe
Maureen, Hans from the family Voss
then Maura and Kendra joined the cause
and yet another pal from high school days
Chris Briggs, the mormon who got away
He was with me in spirit, that's what he said
but he's still in his body, definitely not dead
for us, they gave so much
this world is made of love
and Emily Votruba a wilds loving woman
remembered typhoid and her Grandpa William
Allison Nevitt and Zuna were next
right after John Mark Eiden, aka X
he makes movies, just like me
Deb Havens too, she said I'm not crazy
Rebecca Glofelty, and so generous, Cat Muncey
Miracle Milagros and Yoga with Kari
another anonymous, let's call her Abby
all of us
and everyone
along with love
we're having fun
how about companies, highly evolved
Benzie based, providing good jobs
like Stormcloud in Frankfort
serving vittles and brew
or Crystal Lake Catering
and speaking of food
Elbertos Taqueria, also owned by
Jim Barnes...
Eco Building Products dot com
and recycle with style
at Elberta Mercantile
getting back to eats
Kilwins of Frankfort quite sweet
then our next stop
is Oryana Food Coop
in Traverse City
where all the members are pretty
cause they're eating right
and making whoopie all night
jumping across town,
CityMac
where Apples interact
cool businesses are aware
of the water we share
Here's the rest, all out of order
everyone protecting our wild water
Raveena polymathic, you know her as Mel,
Captain Larry Good he must swell
Rick's dad Fritz, swam Crystal Lake across
Becky Devries is the Coho's boss
Sarah's Lake Mother and James another brother
Fernand and Keonig up on the highlands
joy disciple, John Micheal Musselman
Roman, Anastasia Brooklyn enshacked
Cousin Shannon and her son Jack
Darcie and Dave playing in Hawaiian sun
Family Driscoll back in Interlochen
crushy classy poet Holly Wren
Genius camera dude, Matthew Dayton
Zeb Krumlauf, fixes your tech
Tim Bennet, I'm his bowman best
Rene Herman, just recently graduated
Ada, Ann and Gary after they invaded
Dan Novak who swims nearly nil
Gary Worden with his squeeze Jil
Tricksy pal Anita, with blessings to the mother
Laura Padalino an angel undercover
Krystn Madrine and her grandpa's fishin'
Philippa Kaye moved to Michigan
Kara McConnell that snarky super teacher
and Philip K Dick who inspired my DOG feature
thanks all
you answered the call
swimming for you
that's what we do
You've been listening to the Daughter of Godcast, episode 051, Thanks, mostly music. Next week, we'll be returning to our non-family friendly format, with bad words and controversial topics, so listen with care. In the meantime, love life, shine like the sun, be the world you want to see. Whatever's showing up on your feed, remember we're all in this together and none of us get out of here alive.