A podcast about movie making and the science fiction featurette, Daughter of God, with Director Shri Fugi Spilt, (Dan Kelly). Daughter of Godcast, 049, Lawns. Christine Crissman, Executive Director of the Watershed Center and Dan Kelly discuss how lawns effect watersheds and the open water swim / fundraiser scheduled for August 12, 2017.
Welcome to the Daughter of Godcast, episode 049, Lawns. The final installment of my conversation with Executive Director of the Watershed Center, Christine Crissman. We talk about my least favorite invasive species, the bane of watersheds everywhere, lawns. That's right, that lush expanse of green you're supposed to water, fertilize, mow, water, fertilize mow, water, fertilize, mow. I used to have a lawn, and now I have... this! And this!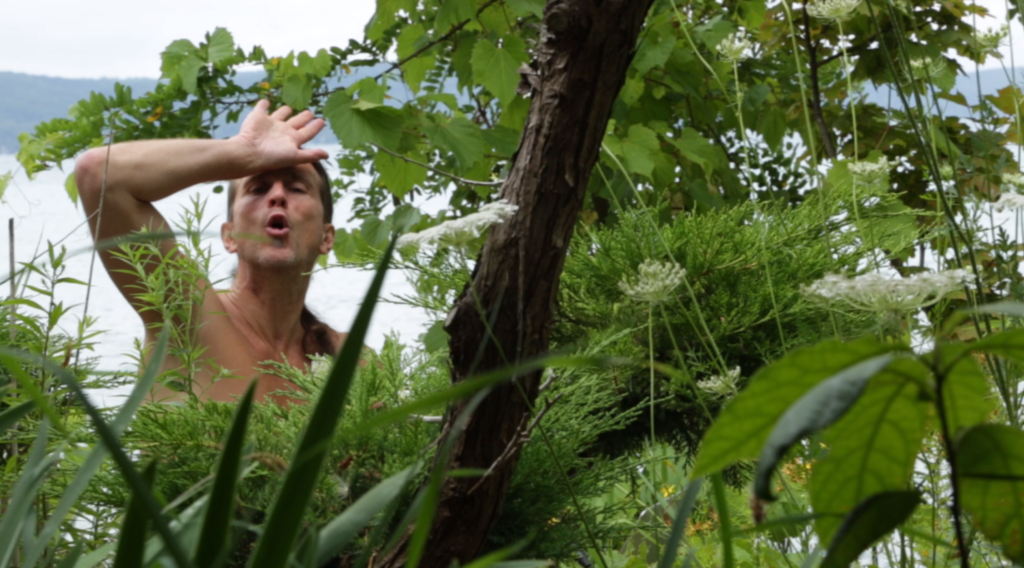 I lost my lawn mostly because I was forced to mow huge yards in my teen years when I lived in Pound Ridge, New York and then New Canaan, CT, and oh, how I loathed that chore.
Turns out lawns are not only boring but problematic for our wild waters. Only a little fertilizer gets taken up by grass, the rest is carried by ground water (or worse, as run off) into streams and lakes. And then wild waters are in trouble. We're not even talking about weed killing glycophosphate formulations like Monsanto's Round Up, which likely causes cancer and autism.
How do golf courses maintain their greens? You don't want to know.
Do some research of your own, lawns and lawn maintenance are environmental apocalypses. In Daughter of God, the most apocalyptic movie ever, all the cliche apocalyptic tropes are clustered together in a series of mega catastrophes including alien invasion, dinosaur cloning, zombies, floods, earthquakes, comet strike, plague, robot revolt... and lawns. There's a whole apocalypse just because of lawns. That's how scary lawns are.
So I asked Christine what the Watershed Center's position on lawns is. Here we go.
•••
You've been listening to the Daughter of Godcast Episode 049 Lawns. LEss than 10 days before we swim. Almost 3/4's of the way to our goal of raising $2018 for the Watershed Center. To all the amazing people and businesses who've joined TEAM DOG, a hearty thanks! For the rest of you, thank you too, in advance! Because I know you're ready to power us through to the finish with a gift of just $11 dollars right now.. www.dog.movie and click on the blue and white circle, Swim for Grand Traverse Bay. You'll not only be protecting wild waters, you'll be bringing DOG to the whole wide world. I'm having so much fun bringing this gentle release to you, podcast, swag and now crowd funding. Join the fun! To $2018 and beyond!