Episode 047
What's a Watershed?
A podcast about movie making and the science fiction featurette, Daughter of God, with Director Shri Fugi Spilt, (Dan Kelly). Daughter of Godcast, 047, What's a Watershed? Christine Crissman, Executive Director of the Watershed Center, Grand Traverse Bay explains what a watershed is.
Hello, this is the Daughter of Godcast, episode 047, What's a Watershed?
In this episode of the Daughter of Godcast we're raising money for wild waters! Hey, I'm gonna be family friendly and a lot less ranty until after the open water swim in mid August. So while the first 46 Daughter of Godcast episodes may not be suitable for all audiences, this one, 047 What's a Watershed is perfectly safe. Gather up the elders, tykes and pets for an edifying watch/listen.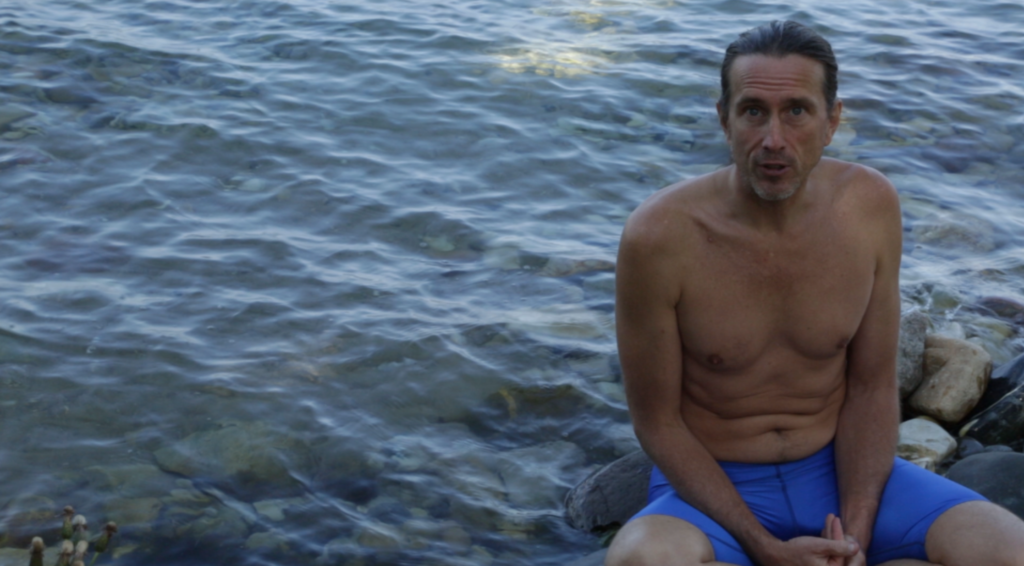 If this is your first episode of The Daughter of Godcast, welcome! The Daughter of Godcast is a podcast about the making of the longest little movie ever, Daughter of God, a post apocalyptic romantic comedy featurette, written and directed by Shri Fugi Spilt aka Dan Kelly, me. Coming to screens in 2018!
I've been making Daughter of God for 12 years! The tagline for Daughter of Godcast is the making of the movie that made me, because in all that time I've learned a lot - about myself, about being human and how to live gently and prosperously on Earth.
The Watershed Center Grand Traverse Bay is organizing an open water swim event and fundraiser. To participate, Every swimmer has to raise at least $150.
So what's an open water swim got to do with my movie? I love wilderness, the places where humans don't have much direct influence. Our health and happiness is all about wilderness. Robust wilderness is why our air stays breathable and our water drinkable, how we grow food and even keep our jobs.
When I heard there was an 2 mile swim event coming up in the wild waters of Grand Traverse Bay,  deploying a Daughter of God team made perfect sense. For now the team is just me, a team of one. Lots of people helped make Daughter of God possible, so I'm not really alone 🙂 TEAM DOG's fundraising goal is $2018, celebrating the year Daughter of God starts screening.
On July 14, 2017 Christine Crissman, Executive Director of the Watershed Center Grand Traverse Bay and I kicked back on Kids Creek, and talked for a solid hour about protecting wild water and the upcoming swim. I've sliced our conversation into bite sized chunks for your listening and viewing pleasure. Raising money for the Watershed Center is my first crowdfunding adventure, but after talking to Christine I'm convinced that the Watershed Center is totally worthy of our support. So here's the proof, episode 047, What's a Watershed.
...and you can donate to TEAM DOG while you listen, got to https://dog.movie and click on the blue and white Swim for the Bay circle All your money goes to the Watershed Center and all your love goes to TEAM DOG. Without further ado, enjoy Christine Crissman and please give generously.
Transcript pending...
You've been protecting wild waters with the Daughter of God. Episode 047, What's a Watershed. We're feeding at least two birds here with one tasty seed. Everyone lives in a watershed, no matter where you are. Even if you smack dab in the middle of Traverse City, or New York City, what you do eventually touches the wild water. Water is survival, a huge hunk of Earth's life support system is ocean and inland sea based. Help TEAM DOG protect wild water, with a donation of just $11. You can give way more, but we're excited to have lots of smaller donations from lots of excellent people, like you.
Go to dog.movie and click the blue and white circle - Swim for Grand Traverse Bay... or follow this link... and thank you!
Meanwhile, there's a movie. Daughter of God. After all this podcasting and wild water resonance, ranting, evangelizing and hub bub. She's coming. Tell everyone you know.